FOSDEM 2019
Published Feb 4, 2019
Reading time 13 minutes
Why FOSDEM?
I'm an advocate for open source software for many reasons - the biggest for me being that everyone should have access to technology and be able to contribute their thoughts and opinions on the products they use. FOSDEM celebrates all free and open source software (FOSS) and advocates for its use and support.
A bit about the event
There's no registration at FOSDEM, I don't know if or how they know how many people attend each year but it's estimated at around 19,000 people!! This is a picture of the main room, not everyone is in it.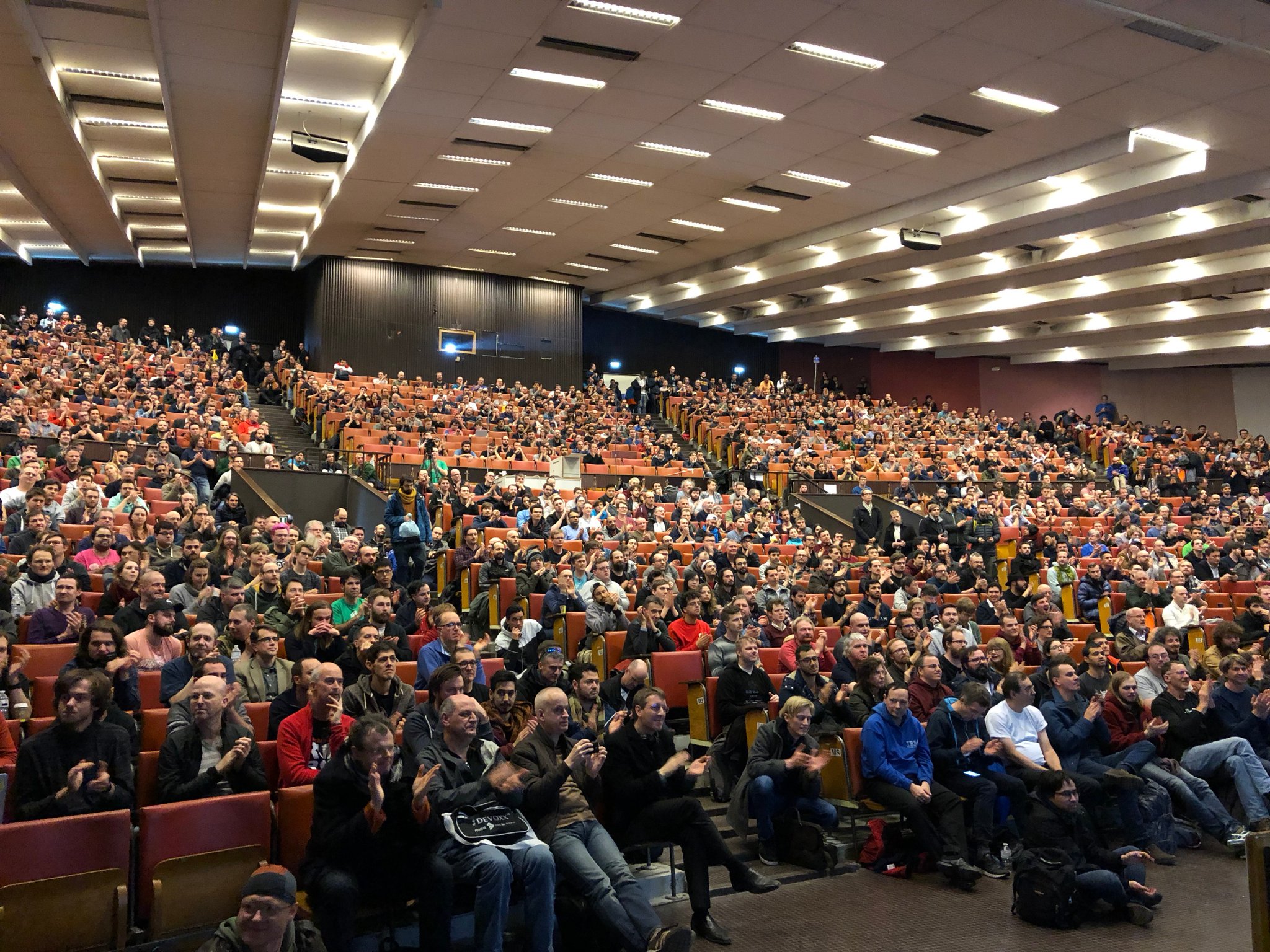 The FOSDEM team are also awesome at collecting and sharing interesting data about the event. My favourite stats from the weekend:
788 events
408 hours 40 minutes of content
600+ speakers
63 tracks, 47 of them dev rooms
65 stands
272 hoodies sold
1900 straight cut t-shirts sold
301 fitted t-shirts sold
Large hoodies were sold out by midday Saturday
900kg fries sold
700 chili burgers
2000 sugar waffles
You can watch the closing talk video here with some interesting general information about the event or this talk is all about the FOSDEM infrastructure - a great watch if you're interested in hosting a tech event!
The talks I made it to
Free Software Foundation, using FOSS and struggling in the modern age, Managing state across servers, Matrix in the French State, DNS over HTTPS - the good, the bad and the ugly, Tuning a Runtime for Both Productivity and Performance, Open Source C#, .NET, and Blazor - everywhere PLUS WebAssembly, Security in Open Source, Critical Path in your software, Building a Community Metrics Strategy, Sustaining FOSS Projects By Democratizing The Sponsorship Process, Hackers gotta eat, Crostini: A Linux Desktop on ChromeOS, Open Source C#, .NET, and Blazor - everywhere PLUS WebAssembly, Jenkins BOF, 2019 - Fifty years of Unix and Linux advances, Closing FOSDEM 2019.
Talk highlights
Top talks were Duane O'Brians talk on the community track about supporting open source, the panel on the Microsoft .NET and TypeScript track talking about Microsoft in open source and Scot Hansleman's talk in the main room about cross-platform c# in dot net core.
Sustaining FOSS Projects By Democratizing The Sponsorship Process
How we run and manage our FOSS Sustainability Fund by Duane O'Brians
Duane works for Indeed and had the idea that he wanted to support open source more from within the company. He noticed a lot of decisions about what projects were getting monetary support were made high up and by senior members of the company. Of the 1000s of open source projects Indeed uses - how to decide which ones get support? He wanted to find a way that allowed all people who were invested in open source be able to decide which projects would get support.
As of this year, Indeed pledges a pot of £120k to open source projects that anyone in the company who has contributed to an open source project can vote on to decide which project would get a donation.
Nominations are made to reduce the number of projects people can vote on - otherwise there would be far too many for reasonable votes. Then an amount of how much to donate is decided as some project may require more money or some less. Some may even not want money and request other resources. Some projects may not be in the right place to accept donations or a projects maintainer may have views that do not coincide with Indeed's goals (perhaps Indeed should not be using that project? Another conversation). Duane highlighted that of the first 20 projects that were nominated to receive votes, he hadn't heard of 5 of them but they were important to other people working within the company who may otherwise not get the chance to influence project donations. Very cool!
I loved this talk, I think it's such a fantastic idea for both encouraging developers to donate their time to projects and for a company to help compensate projects through donations. I look forward to hearing how this progresses through its first year.
Panel: Open Source .NET
Panel guests:
Radka Janeková - Community Manager and .NET Core Quality Engineering Lead at Red Hat

Krzysztof Cieslak - Software developer, open source maintainer and F# advocate

Miguel De Icaza - Software developer, started mono, gnome and Xamarin. On the board of directors of the .NET Foundation.
Chaired by:
Mikayla Hutchinson - Advocate for open source, user experience and inclusively. Works for Microsoft on Visual Studio
As a C# developer, I sometimes find it hard being an open source advocate and Linux user whilst using a propriety Microsoft stack at work. I wasn't planning on going to any of the Microsoft talks at first - I didn't want the FOSDEM crowd to boo and hiss as I walked into the room 😂. But something I learned at OggCamp, there's lots of developers like me, torn between a Microsoft day job and a love of open source. I went to the panel because I wanted to find out if it's true - has Microsoft embraced open source or is it all a ploy?
I arrived early for the panel and made it in time for the talk before - Tuning a Runtime for Both Productivity and Performance by Mei-Chin Tsai and Sergiy Kuryata. Great talk and very humorous! I especially liked the dynamic between the two and of course I always love seeing a woman software engineer on stage rocking it. They spoke about their journey to improving the performance of .NET core and about the problems they faced optimizing the space between TypeSystem and JIT compilation. Really interesting talk and very engaging speakers.
Next up the panelists took their seats. I really enjoyed the panel, I believed the panelists were very genuine, open and honest with their answers. They seemed happy with the current approach of Microsoft to open source. They spoke about trying to balance believing in FOSS and working for Microsoft, what it's been like having people in the FOSS community call them a sellout. I've seen the FOSS community be very noninclusive and uncompromising on it's believes to the detriment to the community and the very people it is supposed to help and it's hard.
I think it's hard to have your work be dismissed because of people perceptions of the company you work for. I left the panel more inspired by what Microsoft is doing in the FOSS community and I want to believe it's going in the right direction. I think going forward I'll be more proud to be a .NET developer and not hide it at these kinds of events, I don't want to be in a community that makes me feel ashamed of what tools and ecosystem I live in. I'm also more inspired to get to know .NET core and develop more side projects using it.
Some interesting topics being discussed on open source at #Microsoft here at #FOSDEM. It's nice to hear there's passionate open source devs working on #dotnetcore pic.twitter.com/ZTlwtTd1zS

— Anna (@anna_hax) February 2, 2019
Open Source C#, .NET, and Blazor - everywhere PLUS WebAssembly
A technical and demo-heavy talk covering .NET, WebAssembly and running Open Source C# in the browser. By Scott Hanselman
Scott is a well-known conference speaker and host of his own podcast, a lot of the speakers at FOSDEM were not public speakers by trade and it was their first talk, this was not the case for Scott! His introduction was hilarious and perfect for FOSDEM, people were left wondering if Microsoft knew he was saying these things! After the panel yesterday, I believe they do and love that he's there being open and honest and facing the critics head-on. Apart from the jokes and perfect execution of demo's, the talk covered the application of running dot net core across multiple platforms. He amazingly demoed first natively on his PC, then using the Ubuntu subsystem on windows, then on a raspberry pi, then on a microcontroller and then on a mac! All demos ran smoothly which I think is a testament to his confidence as a public speakers and the ease in which he was able to spin up the projects. A lot of people were very impressed - not an easy thing for a Microsoft dev to do on the main stage at FOSDEM!
"expect nothing and you will not be disappointed" @shanselman is starting off his #fosdem talk well! His slide game is incredibly strong pic.twitter.com/Clr8KBK4Vr

— Jamie Tanna (@JamieTanna) February 3, 2019
Diversity at FOSDEM
There was a lot of men, as there are in tech everywhere right now. Is the diversity of attendees up from last year? With no metrics, it's hard to tell. Are they working on diversity and improving their presence amongst minorities? There was these nice reminders about:
Nice little reminder from #FOSDEM about what's important 💛 pic.twitter.com/PaHcw8Epe0

— Anna (@anna_hax) February 3, 2019
A few talks touched on the topic of improving diversity which was cool. There's obviously a massive focus on tech at FOSDEM, is there enough focus on the people attending too? There was a Hackers room, a room set up for people to go for some quiet time if they needed to recharge their social batteries - I thought this was nice and a nice nod towards being empathetic to peoples health.
I would love to know how many people went to the Friday night social who didn't know anyone. I think if I didn't know anyone who was going I wouldn't have gone. Maybe I missed it but it would have been cool to have a way to meet other people without walking up to a rando to speak to them.
So is there anything I think people can do at events to be more inclusive?
This may have been an unhappy coincidence but it wasn't great sitting in the opening talks being very aware of the lack of women in the room when two female volunteers came in carrying cleaning supplies whilst all the other male volunteers in the room were managing the equipment or attendees. I know all volunteers helped clean so was very possibly just a wrong time wrong place situation.

Male straight speakers who, during a talk, makes jokes about their wives being fed up with their work. Maybe think again about the joke? Is that joke even true or is she just sick of you never doing your fair share of the housework?? Maybe you just want to make a joke to lighten the tone of your talk but if that joke's adding to a narrative that people are fighting hard against, maybe there's a better joke you can tell.

If your talk involves examples, make sure they're gender neutral. Small things like this really do make a difference.

Swag on a stall, having unisex t-shirts is just the polite way of saying these will fit what we think men look like. If you don't have the budget for different shapes of t-shirts then maybe you don't have the budget for t-shirts?

If you only stock a few fitted or slender fit t-shirts and they all go first, that's pretty cool and you can order more for next time 😁 and if you did stock some and they've all sold out, leave the sign up with SOLD OUT proudly across it. It's a nice reminder that people who like different fit t-shirts (LPT: don't label them men's and women's t-shirts) are around and interested in wearing merch too!

Also, consider your design, is your swag potentially excluding people? Either through sizing or design - perhaps socks, scarfs, badges, tea towels are a better option. I've received all of these recently and loved them all!

Hosting a stall, try and make sure you speak to everyone who approaches the stall the same way. I know it's easier to talk to people who look the same as you but try and fight that by greeting everyone the same.

Consider pronoun stickers and stickers to help people talk to each other. I first came across this at DevOpsDays London and thought it was a great idea. Since then I've seen them at New Adventures conference too. There was a great diversity at DevOpsDays London conference and there's a lot of technology cross over with FOSDEM so I do think there's more that can be done to improve the diversity of the attendees.

Properly done @naconf stickers pic.twitter.com/a81vJa9H8p

— Simon Clayson (@claypole) January 24, 2019
Thinking of going for the first time? What to expect
Definitely wear comfy waterproof shoes and a good coat. It was snowing the first day which turned to ice and slush on the ground and then started raining throughout the rest of the day. There's lots of walking between different buildings if you're going to be moving between tracks. Also be prepared to get up and move quickly with your coat and bag, either to go to another talk or to let people in/out in the lecture room style seating.
With all the different tracks and talks running at the same time, it's very busy and people are moving all over the place. It's quite common to not be able to get into a room if it's a small room and with the walk between places, it can be difficult to get to talks on time too.
Jenny's a FOSDEM pro and had some great advice for first-timers:
How to not be disappointed by #FOSDEM rooms being full:

- Have no plan.
- Pick a track and chill in it.
- Watch the Live Stream
- If in doubt hang out in the Keynote space.
- Hang in the Canteen Track and meet people
- Go and say hello to the exhibitors

— Jenny Wong 🐝 (@miss_jwo) February 2, 2019
Food and drink is available throughout the day. There are food vans outside selling a variety of different food: Belgian fries, waffles, crepes, amazing wraps, pizzas, pasta pots and different types of burgers: pulled pork, beef, vegetarian. There was lots of vegan and vegetarian options. The prices were all pretty much fixed at €7, so you go for what you want or the one with the shortest queue, as they're all price matched. Fries and waffles were cheaper than the main meals though, roughly €5. There was also tea and coffee for sale in various different places across the campus at around €2. Most food places didn't accept cards so be prepared with cash.
If you can, take cash for swag too. Donating to the projects is an awesome thing to do in life anyway but it's especially great when you get some awesome merchandise to wear too! The official FOSDEM merchandise stands accepted card payments but they were the only ones I saw who didn't just take cash. At the very least be prepared to buy the FOSDEM merch to support the conference as it goes a long way to funding the events. Be warned, sizes went pretty quickly, all the large hoodies sold out by midday Saturday.
I bought a Debian hoodie for €35, it's a super cool hoodie and the money supports the Debian project too. Python were selling t-shirts for €15 and Libre Office, Gentoo, the Free Software Foundation and Gnome had t-shirts and or hoodies for similar prices. I even got some socks for €5.
See you at FOSDEM 2020 👋